Swallow Sidecar model 10 Standard Launch — первая модель изготовленная в новом формате. Внешним видом напоминает корпус корабля.
Характеристики Swallow Sidecar model 10
Изящные пропорции этой модели поражают своим изяществом линий и броскостью. Вне зависимости от цены, это одна из самых привлекательных моделей пользующаяся большой популярностью.
Палуба сделана из отполированного красного дерева, а корпус с возможностью окраски из нескольких различных цветов, или же из полированного алюминия.
Размеры: Длина корпуса — 88 1/2″, длина от задней части до ног — 46″, ширина — 21″, высота переда — 25″.
Расцветка: Темно синий, синий Нил, слоновая кость, зеленый, оливковый, красная гвоздика, багровое озеро, первоцвет, черный.
Обивка: Обивка «Rexine» с мягкими подлокотниками в различной цветовой гамме: зеленый, черный, красный, коричневый, синий, с черным передником.
Покрышка: Dunlop с размером по желанию заказчика.
Спецификация: Дверца, хромированное обрамление ветрового стекла, рельсы палубы в задней части корпуса, хромированная лампа типа Lucas на крыле, большой и просторный шкафчик в задней части.
Общая информация:
Дополнительные модули:
Боковые стекла с хромированным каркасом, каждое — 12s. 6d;
Механизм капюшона с возможностью управления им пассажиром — 1£ 5s. 0d;
Откидная задняя часть — 15s. 0d.
Вырезка из каталога 1936 года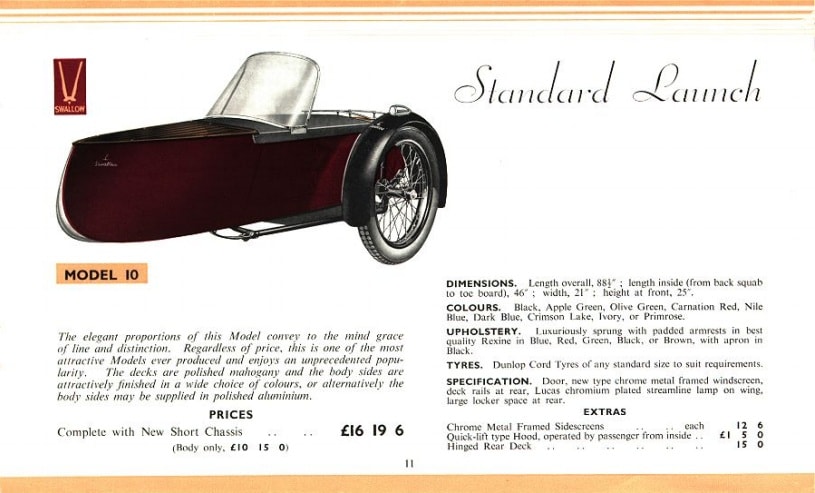 Перевод вырезки можно прочитать в предыдущем разделе.
Оригинальный вариант:
The elegant proporations of this Model convey to the mind grace of line and distriction.
Regardless of price, this is one of the most attractive Models ever produced and enjoys an unprecedented popularity. The decks are polished mahogany and the body sides are attractively finished in a wide choice of colours, or alternatively the body sides may be supplied in polished aluminium.
Dimensions: Length overall, 88 1/2″; lengty inside (from back squab to toe board), 46″; width, 21″; height at front, 25″.
Colours: Black, Apple Green, Olive Green, Carnation Red, Nile Blue, Dark Blue, Crimson Lake, Ivory, or Primrose.
Upholstery: Luxuriously sprung with padded armrests in best quality Rexine in Blue, Red, Green, Black, or Brown, with apron in Black.
Tyres: Dunlop Cord Tyres of any standard size to suit requirements.
Specification: Door, new type chrome metal framed windscreen, deck rails at rear, Lucas chromium plated streamline lamp on wing, large locker space at rear.
Extras:
Chrome Metal Framed Sidescreens — each 12s. 6d.
Quick-lift type Hood, operated by passenger from inside — 1£ 5s. 0d.
Hinged Rear Deck — 15s. 0d.
Prices:
Complete with New Short Chassis — 16£ 19s. 6d.
Body only — 10£ 15s. 0d.
Каталог файлов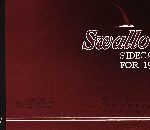 Каталог 1936
Фото и картинки Swallow Sidecar model 10