Swallow Sidecar model 2 Light Weight De-Luxe появилась в линейке моделей в 1922 году. Именно с нее началось изготовление корпуса колясок из 5 алюминиевых листов.
Характеристики Swallow Sidecar model 2
Внедрение технологии изготовления колясок из 5 алюминиевых листов преследовало несколько простых целей: расширение модельного ряда, сокращение времени на производство одной единицы, уменьшение общего веса.
Корпус: Хотя и рассчитан на мотоциклы 2-4 лошадиных силы, способен обеспечить вместительность и комфорт сравнимый с более крупными колясками, которые в свою очередь будут казаться громоздкими и неуклюжими. Корпус может быть покрашен или отполирован, в зависимости от выбора заказчика. Как альтернатива предлагается полированный корпус с покрашенным носом. Жесткость и прочность каркаса обеспечиваются за счет специальной научной разработки.
Обивка: Предлагается по настоящему комфортное предложение: подушка и спинка пневматические, а запатентованная конструкция обеспечит "плавучесть" и вместимость. Весь интерьер отделан покрашенной высококачественной кожей, чтобы соответствовать покрытию корпуса.
Шкафчик: Очень просторный и незаменим при длительных путешествиях.
Размеры: Длина тела – 70 дюймов, высота задней части – 18 дюймов, внутренняя ширина – 18 дюймов.
Ветровое стекло: Триплекс (многослойный целлулоид).
Козырек: Изготовлен из материала высшего класса подобранного под цвет обивки.
Лампа: Ацетиленовая (карбидная) или электрическая лампа, оснащенная мощной выпуклой оптикой. Соответствует дизайну и линиям кузова.
Колесо: Могут быть установлены любого размера.
Диск: Цельный, быстросъемный, изготовлен из отполированного алюминия.
Покрышка: Dunlop любого подходящего размера (Возможна установка покрышек с воздухом за дополнительную плату).
Крепеж: Представляет быстросъемную конструкцию. Может быть установлен на любой мотоцикл в течение нескольких минут.
Подножка: Отлита из алюминия и крепится к передней части брызговика.
Шасси: Установлено шасси номер 2.
Общая информация:
Вес – около 80 кг, Цена – 22£ 10s. 0d;
При установке шасси номер 1 (для мотоциклов больше 4 л.с.), вес – около 100 кг, цена – 24£.
Вырезка из каталога 1928 года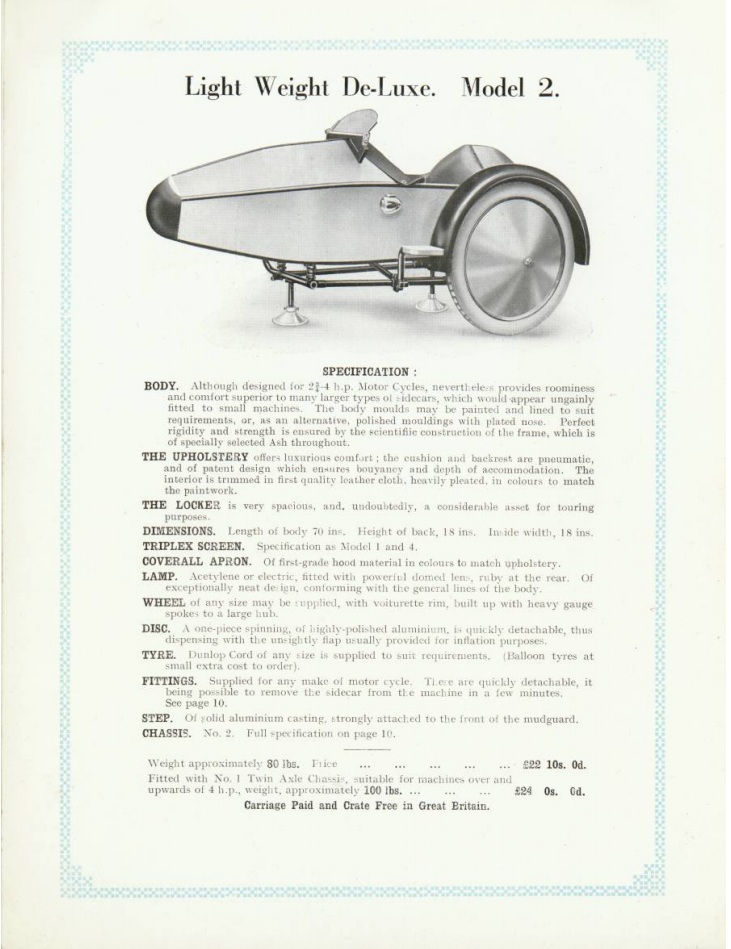 Перевод характеристик доступен в предыдущей главе.
Оригинальный вариант:
Body: although designed for 2-4 h.p. Motor Cycles, nevertheles provides roominess and comfort superior to many larger types of sidecars, which appear ungainly fitted to small machines.
The body moulds may be painted and lined to suit requirements, or, as an alternative, polished mouldings with plated nose. Perfect rigidity and strength is ensured by the scientific construction of the frame, which is of specially selected Ash throughout.
The upholstery: offers luxurious comfort: the cushion and backrest are pneumatic, and of patent design which ensures bouyancy and depth of accommodation. The interior is trimmed in first quality leather cloth, heavily plated, in colours to match the paintwork.
The locker: is very spacious, and, undoubtedly, a considerable asset for touring purposes.
Dimensions: length of body 70 ins. Height of back , 18 ins. Inside width, 18 ins.
Triplex screen: specification as Model 1 and 4.
Coverall apron: of first-grade hood material in colours to match upholstery.
Lamp: acetylene or electric, fitted with powerfull domed lens, ruby at the rear. Of exceptionally neat design, conforming with the general lines of the body.
Wheel: of any size may be supplied, with voiturette rim, built up with heavy gauge spokes to a large hub.
Disc: A one-piece spinning, of highly-polished aluminium, is quickly detachable, thus dispensing with the unsightly flap usually provided for inflation purposes.
Tyre: Dunlop Cord of any size is supplied to suit requirements. (Balloon tyres at small extra cost to order).
Fittings: supplied for any make of motor cycle. These are quickly detachable, it being possible to remove the sidecar from the machine in a few minutes. See page 10.
Step: Of solid aluminium casting, strongly attached to the front of the mudguard.
Chassis: No. 2. Full specification on page 10.
Weight approximately 80 Lbs. Price 22£ 10s. 0d.
Fitted with No. 1 Twin xle Chassis, suitable for machines over and upwards of 4 h.p., weight, approximately 100 Lbs. Price 24£ 0s. 0d.
Carriage Paid and Crate Free in Great Britain.
Каталог файлов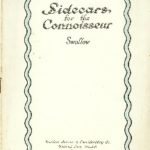 Каталог 1928
Фото и картинки Swallow Sidecar model 2