Swallow Sidecar model 14 Donington Special — последняя из гоночных колясок фирмы Swallow (до продажи фирмы другим владельцам).
Характеристики Swallow Sidecar model 14
Красивая обтекаемая коляска, с элегантными разрезами по бокам, построенная по последним научным принципам обеспечивающим максимальную прочность.
Эти три фактора имеют огромное значение, учитывая тот факт, что коляска разработана специально для гонок, восхождений в гору, и прочих мотоциклетных мероприятий.
Размеры: Длина корпуса — 76″, длина от задней части до ног — 43″, ширина — 20″, высота переда — 34″.
Расцветка: Двухцветная схема с выбором из следующих цветов: оливковый, черный, зеленый, синий Нил, багровое озеро, темно синий, красная гвоздика, первоцвет, слоновая кость.
Обивка: Качественная обивка «Rexine» с цветом по выбору: красный, синий, черный, коричневый, зеленый.
Покрышка: Dunlop в различных размерах по желанию и выбору клиента.
Спецификация: Хромированный каркас ветрового стекла, хромированный поручень, хромированный обтекаемый светильник, фартук, подножка, хромированная сетка для багажа.
Общая информация:
Дополнительные модули:
Капюшон — 1£ 5s. 0d;
Специальные боковые стекла — каждое, 1£ 5s. 0d.
Вырезка из каталога 1936 года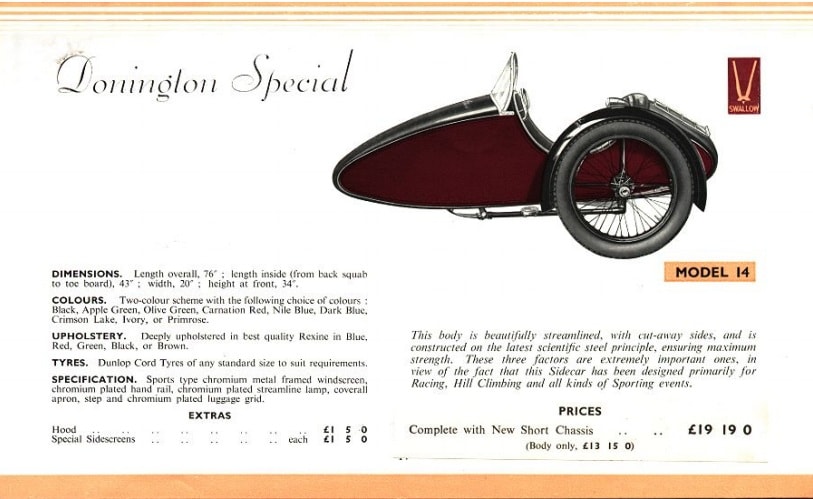 Вольный перевод доступен в предыдущем разделе.
Оригинальный вариант:
This body is beautyfully streamlined, with cut-away sides, and is constructed on the latest scientific steel principle, ensuring maximum strength.
These three factors are extremely important ones, in view of the fact that this Sidecar has been designed primarily for Racing, Hill Climbing and all kinds Sporting events.
Dimensions: Length overall, 76″; lengty inside (from back squab to toe board), 43″; width, 20″; height at front, 34″.
Colours: Two-colour scheme with the following choice of colours: Black, Apple Green, Olive Green, Carnation Red, Nile Blue, Dark Blue, Crimson Lake, Ivory, or Primrose.
Upholstery: Deeply upholstered in best quality Rexine in Blue, Red, Green, Black, or Brown.
Tyres: Dunlop Cord Tyres of any standard size to suit requirements.
Specification: Sports type chromium metal framed windscreen, chromium plated hand rail, chromium plated streamline lamp, coverall apron, step and chromium plated luggage grid.
Extras:
Hood — 1£ 5s. 0d.
Special Sidescreens — each 1£ 5s. 0d.
Prices:
Complete with New Short Chassis — 19£ 19s. 0d.
Body only — 13£ 15s. 0d.
Каталог файлов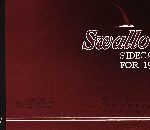 Каталог 1936
Фото и картинки Swallow Sidecar model 14