Swallow Sidecar model 11 De Luxe Launch — коляска, очень похожая на модель 10, но с рядом значительных Люксовых преимуществ.
Характеристики Swallow Sidecar model 11
Похожа на модель 10, но с гораздо более полным комплектом дополнений.

Модель 11 является роскошной коляской во всех смыслах, и признается выдающимся примером высококлассной конструкции. Каждый пассажир должен по-настоящему гордиться поездке в такой коляске.
Размеры: Длина корпуса — 88 1/2″, длина от задней части до ног — 46″, ширина — 21″, высота переда — 25″.
Расцветка: Первоцвет, красная гвоздика, темно синий, зеленый, синий Нил, слоновая кость, оливковый, багровое озеро, черный.
Обивка: Лучшая обивка фирмы «Rexine» с выбором из нескольких цветов: коричневый, красный, зеленый, черный, синий.
Покрышка: Dunlop в различных размерах по выбору покупателя.
Спецификация: Дверца, ветровое стекло из 3 частей с хромированной арматурой, рельсы палубы по всему верху корпуса, лампа, капюшон, откидной шкафчик.
Общая информация:
Дополнительные модули:
Детское сиденье вместо шкафчика — 1£ 1s. 6d.
Вырезка из каталога 1936 года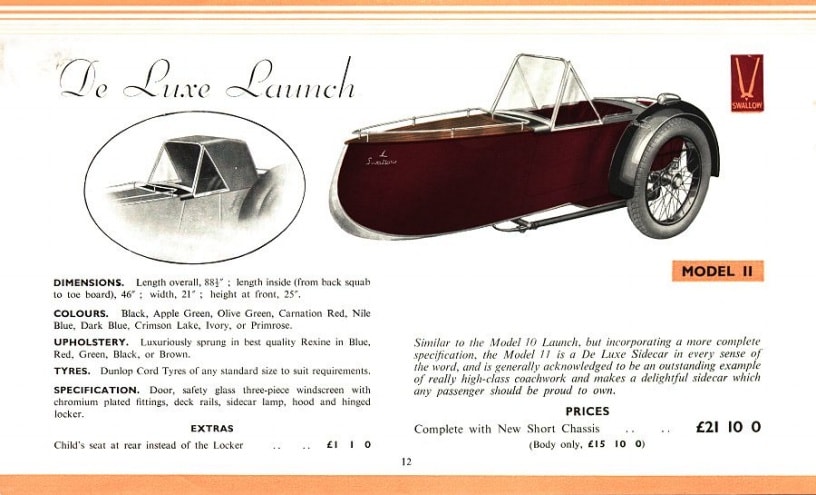 Примерный перевод текста можно прочитать в предыдущем разделе.
Оригинальный вариант:
Similar to the Model 10 Launch, but incorporating a more complete specification, the Model 11 is a De Luxe Sidecar in every sense of the world, and is generally acknowledged to be an outstanding example of really high-class coachwork and makes a delightful sidecar which any passenger should be proud to own.
Dimensions: Length overall, 88 1/2″; lengty inside (from back squab to toe board), 46″; width, 21″; height at front, 25″.
Colours: Black, Apple Green, Olive Green, Carnation Red, Nile Blue, Dark Blue, Crimson Lake, Ivory, or Primrose.
Upholstery: Luxuriously sprung in best quality Rexine in Blue, Red, Green, Black, or Brown.
Tyres: Dunlop Cord Tyres of any standard size to suit requirements.
Specification: Door, safety glass three-piece windscreen with chromium plated fittings, deck rails, sidecar lamp, hood and hinged locker.
Extras:
Child's seat at rear instead of the Locker — 1£ 1s. 6d.
Prices:
Complete with New Short Chassis — 21£ 10s. 0d.
Body only — 15£ 10s. 0d.
Фото и картинки Swallow Sidecar model 11
Каталог файлов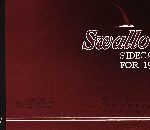 Каталог 1936