Swallow Sidecar model 8 Sports Touring Coupe de Luxe — модель для длительных путешествий с улучшенным комфортом для пассажира.
Характеристики Swallow Sidecar model 8
Весьма привлекательна модель соответствующая все запросам людей, которые привыкли путешествовать в комфорте.
Позволяет совершать поездки в абсолютно любую погоду и обеспечивает отличную защиту пассажира.
Размеры: Длина корпуса — 74″, длина от зада до ног — 43″, ширина — 20 3/4″, высота переда — 30″.
Расцветка: Черный, первоцвет, красная гвоздика, зеленое яблоко, оливковый, темный синий, алое озеро, синий Нил, слоновая кость.
Обивка: Обивка высшего качества от компании «Rexine» представленная в нескольких цветах: коричневый, красный, синий, черный, зеленый.
Покрышка: Dunlop по выбору клиента.
Спецификация: Большая дверца, водонепроницаемая откидная крыша, вместительный задний шкаф с откидной крышкой, ветровое стекло с хромированным каркасом, быстрый механизм управления капюшоном.
Общая информация:
Дополнительные модули:
Боковое стекло с хромированным основанием (за штуку) — 12s. 6d.
Вырезка из каталога 1936 года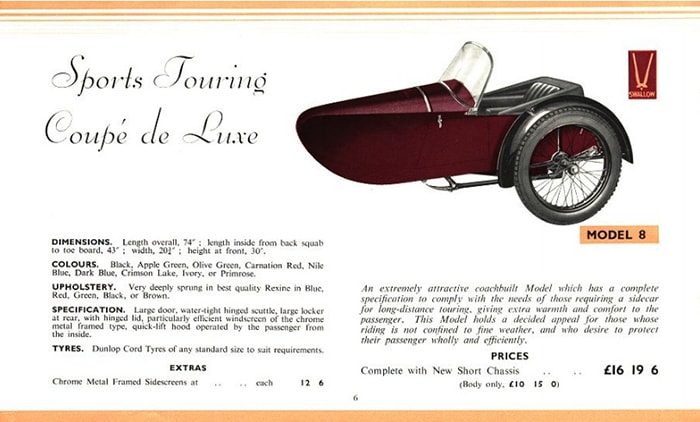 Примерный перевод вырезки можно прочесть в главе выше.
Оригинальный вариант:
An extremely attractive coachbuilt Model which has a complete specification to comply with the needs of those requiring a sidecar for long-distance touring, giving extra warmth and comfort to the passenger.
This Model holds a decided appeal for those whose riding is not confined to fine weather, and who desire to protect their passenger wholly and efficiently.
Dimensions: Length overall, 74″; lengty inside from back squab to toe board, 43″; width, 20 3/4; height at front, 30″.
Colours: Black, Apple Green, Olive Green, Carnation Red, Nile Blue, Dark Blue, Crimson Lake, Ivory, or Primrose.
Upholstery: Very deeply sprung in best quality Rexine in Blue, Red, Green, Black, or Brown.
Specification: Large door, water-tight hinged scuttle, large locker at rear, with hinged lid, particularly efficient windscreen of the chrome metal framed type, quick-lift hood operated by the passenger from the inside.
Tyres: Dunlop Cord Tyres of any standard size to suit requirements.
Extras:
Chrome Metal Framed Sidescreens at — each 12s. 6d.
Prices:
Complete with New Short Chassis — 16£ 19s. 6d.
Body only — 10£ 15s. 0d.
Каталог файлов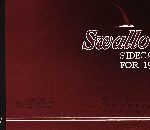 Каталог 1936
Фото и картинки Swallow Sidecar model 8