Swallow Sidecar model 8a Hurlingham Adult Two-Seater — специальная двух-местная коляска созданная по запросам множества клиентов компании.
Характеристики Swallow Sidecar model 8a
Совершенно новая модель разработанная после многочисленных запросов на создание двух-местной коляски, в которой можно удобно разместить двух взрослых пассажиров.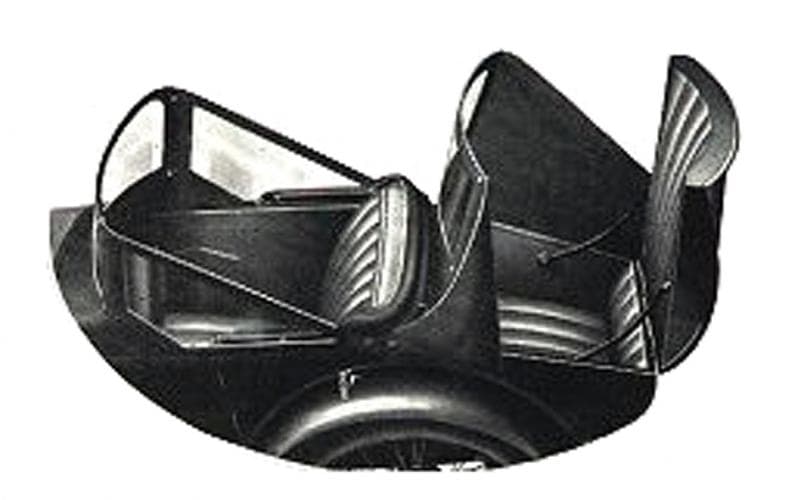 При этом коляска должна отвечать красоте и дизайну, которые всегда были связаны с изделиями фирмы «Swallow».
Размеры: Длина корпуса — 6′ 101″, длина от задней части до ног — 42″, ширина — 20″, высота переда — 33 1/2″.
Расцветка: Окраска в 2 цвета с возможностью самостоятельно выбрать расцветку из следующий цветов: Черный, оливковый, алое озеро, первоцвет, красная гвоздика, слоновая кость, зеленое яблоко, темный синий, синий Нил.
Обивка: Высококачественная обивка «Rexine» с выбором из нескольких цветов: коричневый, зеленый, черный, красный, синий.
Покрышка: Dunlop с размером по выбору покупателя.
Спецификация: Большая дверца, дополнительные боковые стекла, рамка быстрого подъема капюшона, бардачок.
Общая информация:
С Коротким шасси (2 рессоры спереди, 5 сзади) — 19£ 7s. 6d;
Только корпус коляски — 12£ 5s 0d.
Дополнительные модули:
Всепогодное оборудование для заднего пассажира (экраны, ветровые стекла) — 1£ 1s. 0d.
Вырезка из каталога 1936 года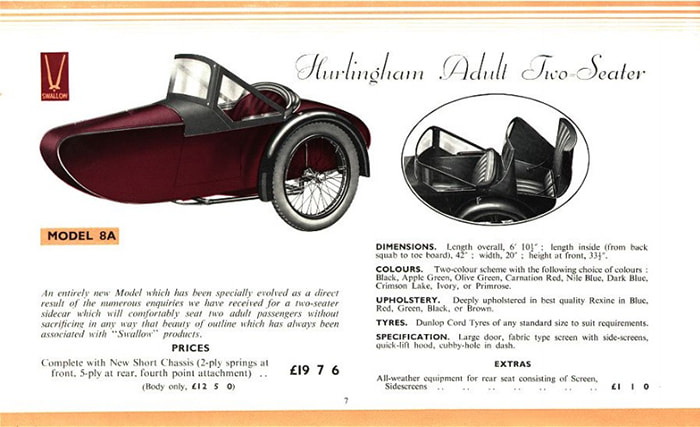 Перевод доступен в разделе выше:
Оригинальный вариант:
An entirely new Model which has been specially evolved as a direct result of the numerous enquiries we have received for a two-seater sidecar which will comfortably seat two adult passengers without sacrificing in any way that beauty of outline which has always been associated with «Swallow» products.
Dimensions: Length overall, 6′ 101″; lengty inside (from back squab to toe board), 42″; width, 20″; height at front, 33 1/2″.
Colours: Two-colour scheme with the following choice of colours: Black, Apple Green, Olive Green, Carnation Red, Nile Blue, Dark Blue, Crimson Lake, Ivory, or Primrose.
Upholstery: Deeply upholstered in best quality Rexine in Blue, Red, Green, Black, or Brown.
Tyres: Dunlop Cord Tyres of any standard size to suit requirements.
Specification: Large door, fabric type screen with side-screens, quick-lift hood, cubby-hole in dash.
Extras:
All-weather equipment for rear seat consisting of Screen, Sidescreens — 1£ 1s. 0d.
Prices:
Complete with New Short Chassis (2-ply springs at front. 5-ply at rear. Fourth point attachment) — 19£ 7s. 6d.
Body only — 12£ 5s. 0d.
Каталог файлов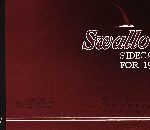 Каталог 1936
Фото и картинки Swallow Sidecar model 8a